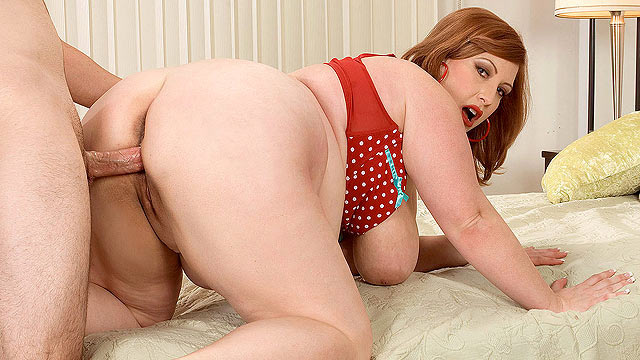 Neapolitan ice cream, cherries, cream and chocolate syrup? For Nikki, this isn't just a recipe for dessert, it's a recipe for sex, too. They're one and the same for a big girl who likes to indulge her sweet tooth while getting fucked. Even just ordering her ice cream over the phone has Nikki rubbing her tits in anticipation of the treat she's going to get. She starts rubbing her pussy and by the time her snack arrives she is ready to devour it. Only thing is, she forgot to order a banana with her ice cream, so she substitutes it with the bellhop's cock. After licking the sprinkles off his dick, Nikki introduces his wang to her wet pussy and takes him for a juicy, plump ride.
More BBWs »
As one of the best-known BBW models in porn, Maria Moore likes to keep her body and tits full for the camera. She never skips out on dessert and she even goes for that second scoop of ice cream. "I know I'm in the right business because I love food and I love fucking. Sure, I could go out and find a normal job, but I'm not a normal girl. I love showing off my big tits and my dick-sucking skills. And where else would I be able to do that and get to enjoy amazing food at the same time? I've always mixed food and sex in my personal life, and now the whole world gets to see it. That idea gives me the most satisfaction of all."
More BBWs »
It's Miami and it's hot as hell outside. Anastaisa wants to cool off with some ice cream, so she gets a modest scoop of vanilla in a cone and starts licking away. It drips down her tits and she gives her guy a lick so he can enjoy some ice cream, too. But even though she's had a cold treat, Anastaisa is still burning up. Her cunt is on fire because she wants a big cock inside of it. She wants man cream. So she uses what's left of her ice cream to lather her guy's cock and suck it off. There's no way this guy's dick can cool down in Anastaisa's mouth or between her tits. So his hot dick goes in her hot pussy. With no more ice cream left he provides more sweet, white stuff for Anastaisa to lick up.
More BBWs »
"I want you to feed me this fettucini alfredo, noodle by noodle. But before I take the first bite, hold it under my nose and let me smell it. Tease me a little. Make me want it even more. Then let me lick the sauce off and slurp the noodle between my lips. Put it on my face and drag it on my tits. I love to get covered with cream. When we're done I want my body to be completely covered. Just like you feed me to satisfy me, I'll fuck and suck you to make you cum. Drag your cock across my lips just like you did with the noodles. If you put some of the pasta on your prick, I'll swallow it even deeper. And when you finally put your dick in my pussy, I'm still going to be slurping down those noodles."
More BBWs »
When Sienna orders room service, what she really wants is pussy service. She loves seducing innocent bell hops that have no idea what they're in for. But pussy service doesn't just mean licking and fucking her slit. It also includes feeding her food. So what's the connection between Sienna's mouth and pussy? "The way to my pussy is through my stomach. The act of eating is like foreplay for me. I want to make sure that if I'm going to fuck a guy, that he's worth my time. I want someone who's gonna feed me slowly and with care-not someone who is going to half-ass it because he just wants to get laid. The guy needs to be as concerned about my pleasure as he is about his. If you service me, I will reward you with a big tip."
More BBWs »