Cassie's not the kind of gal who thinks a woman's place is in the kitchen, but she'll make an exception to her please her man. Just so long as she can bake and cook in tight, revealing clothing and high heels. But the real fun begins when the muffins come out of the oven. "I think it's very sensual and sexy when a man feeds me, and it gives me the chance to show him just what I can do with my mouth. When I'm being fed my pussy gets just as hot as an oven and I definitely need to have some goodies put inside of it!"
More BBWs »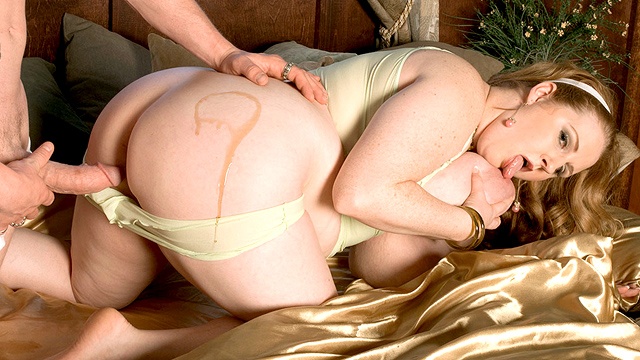 Being served breakfast in bed is the ultimate luxury, and a stacked BBW superstar like Sapphire deserves the best. She indulges in every way and that's why we love her. The more she eats, the bigger her already-huge tits get. And the more she fucks, the more we jerk to her. "I love being fed and fucked. It was something I was into before I even started shooting porn. So everyone out there is actually seeing something that I've been doing in my personal life for a long time."
More BBWs »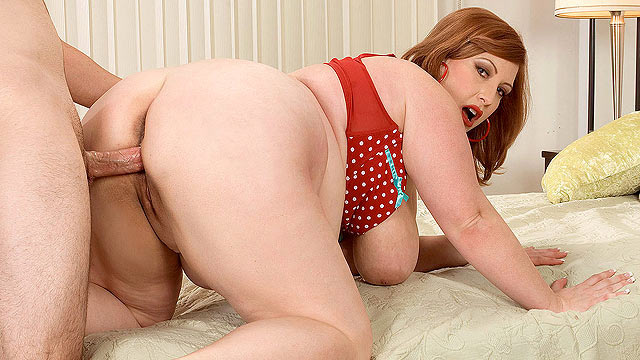 Neapolitan ice cream, cherries, cream and chocolate syrup? For Nikki, this isn't just a recipe for dessert, it's a recipe for sex, too. They're one and the same for a big girl who likes to indulge her sweet tooth while getting fucked. Even just ordering her ice cream over the phone has Nikki rubbing her tits in anticipation of the treat she's going to get. She starts rubbing her pussy and by the time her snack arrives she is ready to devour it. Only thing is, she forgot to order a banana with her ice cream, so she substitutes it with the bellhop's cock. After licking the sprinkles off his dick, Nikki introduces his wang to her wet pussy and takes him for a juicy, plump ride.
More BBWs »
As one of the best-known BBW models in porn, Maria Moore likes to keep her body and tits full for the camera. She never skips out on dessert and she even goes for that second scoop of ice cream. "I know I'm in the right business because I love food and I love fucking. Sure, I could go out and find a normal job, but I'm not a normal girl. I love showing off my big tits and my dick-sucking skills. And where else would I be able to do that and get to enjoy amazing food at the same time? I've always mixed food and sex in my personal life, and now the whole world gets to see it. That idea gives me the most satisfaction of all."
More BBWs »
Get 2 BBWSites for the price of 1!
FREE ACCESS TO xlgirls.com